While improving the health of your hair undoubtedly requires a holistic approach, you can make marked improvements simply by introducing hi-tech hair products into your regime as well as utilising the best hair treatments out there. And that's where Fusio-Dose comes in.
How Can Fusio-Dose Improve The Health of Your Hair
A boundary-pushing treatment exclusive to salons, Fusio-Dose plies hair with a potent, custom and fresh blend of active ingredients, chosen specifically for your unique hair needs and concerns. Quick action molecules powered by micro-emulsion technology are able delivery intensely conditioning, nourishing, recovering and strengthening ingredients to the precise areas that need them the most.
Fast-working, the treatment is sprayed onto hair at the backwash, massaged in and then rinsed out a mere five minutes later revealing instantly-transformed hair. Better still, this shot of health lasts up to five whole washes.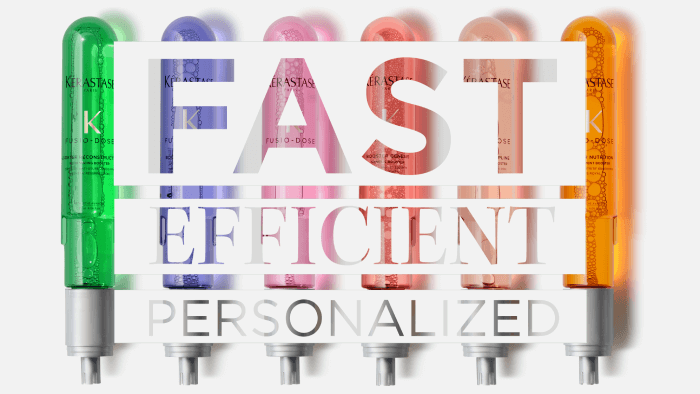 HOW TO FIND YOUR PERFECT FUSIO-DOSE PRESCRIPTION
Uniquely personal, Fusio-Dose is a custom hair treatment that is tailored to your individual hair needs and concerns. That's why at the start of every treatment, your stylist will undertake a thorough diagnosis, looking closely at the hair and scalp to identify your specific needs as well as gaining your input on your biggest hair bugbears.
What comes after a diagnosis? A prescription. Your stylist will then use this information to recommend the perfect Fusio-Dose custom combination for you. Each Fusio-Dose treatment involves professionally blending a Concentre base formula with a targeted Booster, which work in tandem to tend to both your primary and secondary hair concerns.
There's seven Concentres and Six Boosters from which to pick-and-mix, totalling an impressive 42 possible combinations. Below find some of the hero combinations popular amongst Kerastase fans.
To Strengthen Blonde Hair
Concentre Vita-Ciment + Booster Cicafibre
Teaming famously hydrating hyaluronic acid with strengthening ceramides, this combination will illuminate blonde tones, recover damage and create softer, stronger strands.
To Tone Blonde Hair
Concentre [H.A] Ultra Violet + Booster Cicafibre
This combination offers instant colour neutralisation to rid hair of brassiness while also illuminating and strengthening blonde hair.
To Prevent Hair Fall
Concentre Oleo Fusion + Booster Genesis
Amino acids are blended with ginger extract in this combination which boosts hair resilience and fibre strength, limiting excess hair fall.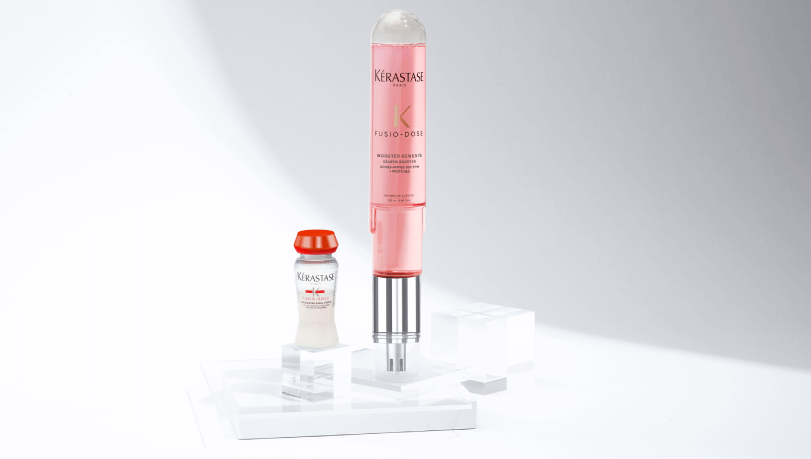 To Protect Coloured Hair
Concentre Pixelist + Booster Reconstruction
This combination improves surface shine as well as offering deep down radiance and contains both jojoba oil and glycerin.
To Recover Damaged Hair
Concentre Vita-Ciment + Booster Nutrition
Intensely nourishing, this combination prevents breakage and reduces split ends, plying hair with glycerin and ceramides.
To Strengthen And Nourish Curls
Concentre de Forme + Booster Nutrition
Designed with curly and coily hair in mind, this combination offers intense moisture to improve curl strength and bounce.